Crispy vegan take on a Korean favourite - bites of deep fried cauliflower florets with a soy and sweet chilli sauce.
Korean Fried Cauliflower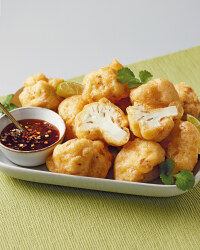 Recipe Information
Ingredients
1 Cauliflower
150g Plain Flour
40g Cornflour
1 tsp Baking Powder
1 tsp Chilli Powder
1 Lime
260ml Chilled Soda Water
80ml Soy Sauce
80ml Sweet Chilli Sauce
Salt
Vegetable Oil
Method
Mix the soy and sweet chilli sauces to make the dip.
Break up the cauliflower into florets.
Heat 3cm vegetable oil in a deep frying pan.
Put the flour, baking powder and chilli powder into a bowl.
Season with salt. Whisk in lime juice and water.
Drop the florets in the batter and then into the hot oil.
Fry in batches until brown and crispy.
Serve with the dip.