Juicy pork loin medallions, roasted in a delicious blend of paprika, sage and black pepper and served with tangy tomatoes and courgettes.
Mallory Pork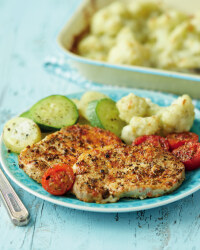 Recipe Information
Ingredients
2 x 300g packs Pork Loin Medallions
250g pack Cocktail Vine Tomatoes
1 Cauliflower
400g Salad Potatoes
400g Courgettes
50ml Baron St Jean White Wine
50ml Solesta Olive Oil
1 heaped tsp Stonemill Sage
½ tsp Stonemill Paprika
25g Greenvale Salted Butter
25g The Pantry Plain Flour
200ml Milk
100g Blue Stilton, grated
Sea Salt and Black Pepper
Method
Pre-heat the oven to 200°C/400°F/Gas Mark 6.
To make the cheese sauce, melt the butter in a small pan, add the flour and cook on a low heat, stirring for a minute.
Add the milk slowly, stirring as you go, until thickened.
Add the blue cheese and take the pan off the heat – allow the cheese to melt.
Cut the tomatoes in half.
Put the pork medallions and the halved tomatoes in a roasting dish in a single layer.
Pour over the white wine and the olive oil, then sprinkle over the sage, some black pepper, paprika and a little salt.
Roast uncovered for 25 minutes.
Meanwhile, break the cauliflower into florets – cook in some boiling salted water for 10 minutes then drain well.
Mix the cauliflower with the blue cheese sauce, put into a baking dish and cook for 15 minutes.
Slice the potato and courgettes.
Boil the potatoes in some salted water for 8 minutes, add the courgettes and cook for a further 2 minutes, then drain.
Serve the pork and tomatoes alongside the vegetables.