A fruity and exciting dessert, best served after a Sunday roast.
Peach Galette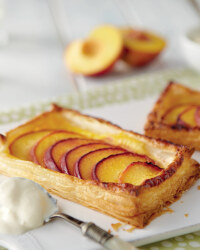 Recipe Information
Ingredients
375g Greenvale Ready Rolled Pastry
200g Delicious Desserts Custard
4 Peaches
10ml Cowbelle Semi-Skimmed Milk
15g The Pantry Caster Sugar
Find your ingredients online on Click & Collect or find your nearest store using our Store Finder.
Method
Preheat the oven to 240°C/475°F/Gas Mark 9.
Divide the pastry into 8 oblong pieces.
Using a sharp knife, score around the edge of each piece (like a picture frame) and place onto a lightly greased baking tray.
Spread the custard (about a dessert spoon for each) along the inner part of each piece, trying not to get any custard onto the border.
Cut the peaches in half and remove the stones using a teaspoon.
Cut each half into thin slices and fan each slice out on top of the custard.
Brush a little milk over the border and sprinkle with caster sugar.
Bake in the oven for around 20 minutes, or until the edges have risen and are golden.
Serve warm with cream fraiche or cold.