Impress your guests with a simple yet luxurious treat - lobster tails in a delicious lemon and herb butter.
Roast Lobster Tails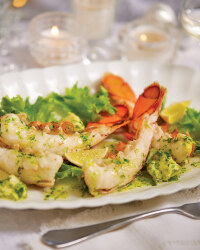 Recipe Information
Ingredients
1 Pack Specially Selected lobster tails
50g Butter
1 tbsp freshly chopped flat leaf parsley
1 Lemon (zested)
Pinch of salt
Pinch of pepper
Method
Preheat the oven to 200°C/Fan 180°C/Gas mark 6.
To make the lemon and herb butter combine the butter with the zest of one lemon, freshly chopped parsley, salt and pepper.
Place half of the butter on each lobster tail and bake for 20 minutes until the lobster meat is cooked through – it will be firm and opaque all the way through.
Serve with a fresh salad and a lemon wedge.