12 tasty banana and blackberry oat muffins.
Scottish Blackberry Oat Muffins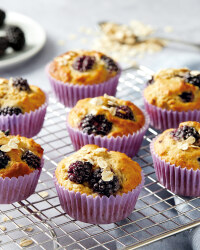 Recipe Information
Ingredients
200g Self Raising Flour
50g Scottish Porridge Oats (plus 2 tbsp for topping)
1 tsp Baking Powder
1 tsp Ground Cinnamon
2 Medium Scottish Eggs
90ml Maple Syrup
1 Large Banana, mashed
60ml Vegetable Oil
60ml Scottish Milk
150g Scottish Blackberries
12 hole Cupcake Tin lined with cases
Method
Pre-heat the oven to 180°C Fan/Gas Mark 6.
Place the flour, oats, baking powder and cinnamon into a mixing bowl and stir until combined.
Whisk together the eggs, maple syrup, mashed banana, vegetable oil and milk.
Add the wet mixture into the dry and beat with a wooden spoon until fully combined.
Stir through the blackberries then divide the mixture between the 12 cases.
Sprinkle the extra 2 tablespoons of oats on top of the batter then bake for 15 minutes until risen and cooked through. Serve warm.