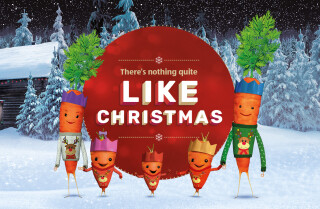 Wishing you a very merry award-winning Christmas
We've got everything you need to make this Christmas simply unforgettable. From amazing gifts and quality food and drink, to top Christmas saving tips. Well what do you expect from winner of Good Housekeeping Reader's Favourite Supermarket 2020 and Quality Food's Christmas Retailer of the Year?

Hooray! Kevin's made it home in time for Christmas
Kevin has been rescued from spending Christmas all cold and alone. Lettuce watch and see how Santa saves the day and enjoy a few of Kevin's best bits.
Time for an amazing Christmas
You really can have all the quality and value you want this Christmas at Aldi. Spoil them with a plump, juicy turkeys and succulent British roasts. Treat them to an award-winning wine or one of our delicious craft gins. Enjoy a homemade Christmas to remember with a few dishes from our festive Taste Kitchen. Fancy an amazing Christmas? Here's a little inspiration.
Christmas opening hours and delivery times
Get organised for the big day. Check our extended Christmas opening times and make a note of all those all-important delivery dates so that all your surprises arrive in plenty of time.
Finally! Christmas is here!
Time to start planning and prepping, gifting and giving. Don't miss our incredible Specialbuys Christmas range, or our exclusive luxury hampers. Jot down what you need and when it's available with the help of our unmissable diary dates and be inspired to have the homemade Christmas you've always wanted.