Hearty and rustic, you can make the most of your chicken with this classic Sunday roast recipe.
Sunday Chicken Roast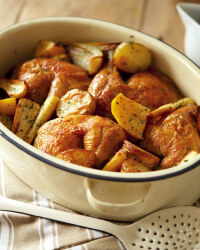 Recipe Information
Ingredients
1 x 500g Bag Parsnips, Peeled, Halved, and Quartered if large
1 Swede - Peeled and Cut into 8 Chunks
500g New Potatoes - cut in half
3 x 510g Packets Chicken Leg Quarters
150ml Solesta Mild Olive Oil
2 x Onions - peeled and cut into quarters
3 x tsp Stonemill Dried Parsley
Salt and pepper
Method
Pre-heat the oven to 200°C/400°F/Gas Mark 6.
In a large pan of boiling salted water cook the parsnips, swede and potatoes for 10 minutes.
Meanwhile put the chicken quarters in a large roasting dish.
Pour over the oil and put into the oven.
When the vegetables are ready - drain and add to the roasting dish, along with the onion quarters.
Season with some pepper and continue roasting for 45 minutes.
Check all is tender - sprinkle with the parsley and serve.
Great served with Quixo Chicken Gravy.