This delicious take on a classic side dish is the perfect addition to your dinner. For vegetarians, why not try this as a main?
Sweet Potato Dauphinoise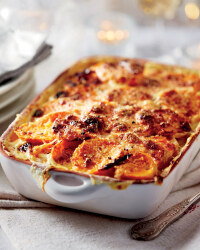 Recipe Information
Ingredients
1kg Sweet Potatoes
1 Onion
3 Garlic Cloves, crushed
2 sprigs of Fresh Thyme
25g Greenvale Butter, plus extra for greasing
250ml Double Cream
150ml Milk
50g Grated Parmesan
1 tsp Salt
1 tsp Pepper
Find your ingredients online on Click & Collect or find your nearest store using our Store Finder.
Method
Preheat the oven to 200°C/Fan 180°C/Gas mark 6.
To begin chop the onion into a dice and then melt the butter in a pan. Fry the onions with the garlic, thyme, salt and pepper for 10 minutes until they have softened.
When the onions have softened add the milk and cream to the pan and warm to a simmer, this will infuse the garlic and herbs in the cream.
In the meantime either use a mandolin or carefully slice the potatoes thinly (about as thin as a 10p coin) and evenly layer half of the sweet potatoes into an oven proof dish. Then pour half of the onions in the milk and cream over the top removing any large garlic.
Then put the final slices of the sweet potato into the dish and pour over the remaining milk and cream.
Grate the parmesan over the top and bake for 40-45 minutes until the potatoes are soft all the way through.