A delicious moist dessert, perfectly paired with custard or ice cream.
Chef's Tip
Just pulsing in the sugar into the crumble ensures that the mixture does not cake up, but keeps the crumble nice and loose. The secret with crumble is to eat it warm, not hot with lashings of custard. I also like to serve vanilla ice cream with this; the hot and cold mix is lovely This also freezes well.
Tasty Apple Crumble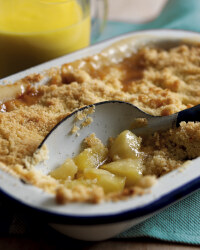 Recipe Information
Ingredients
4 large Apples, peeled, cored and cut into 2cm pieces
300g Caster Sugar Juice
1 large Lemon and finely grated zest
3 tbsp Water
200g Unsalted Butter
400g Plain Flour
Pinch of Salt
1 Carton Custard, warmed through
Find your ingredients online on Click & Collect or find your nearest store using our Store Finder.
Method
Pre-heat the oven to 200°C, Gas Mark 6.
Place the apple, 100g of sugar, lemon juice, zest and water into a saucepan.
Cook until the apple breaks down, until about half cooked, then spoon into a 24cm x 5cm deep baking dish.
Place the cold butter, salt and flour together in a food processor.
Pulse until the mixture becomes fine breadcrumbs, then add the rest of the sugar and just bring together, do not overwork.
Spread evenly over the part cooked apple and bake in the pre-heated oven for 20 minutes, or until nice and golden.