Have some fun with the quick and easy creepy Spider Cookies.
10 Minute Spider Cookies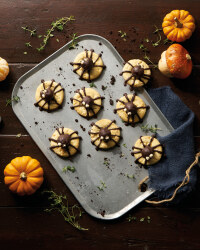 Recipe Information
Ingredients
1 packet Specially Selected White Chocolate Chunk Cookies
12 Moser Roth Salted Caramel Truffles
150g Dark Chocolate
24 White Chocolate Chips
Method
1. Melt the chocolate either in a glass bowl over a pan of hot water or in the microwave, stirring every 30 seconds to ensure it doesn't get too hot.
2. Pour half of the chocolate into a piping bag and pipe 8 legs onto each cookie.
3. Dip the truffles into the remaining dark chocolate using a fork, then place them onto the cookies as the spiders' bodies.
4. Place the white chocolate chips onto the spiders as the eyes.