Juicy pork with a beautiful blend of fruit, veg and assorted spices. Brilliant for family meals.
African Pork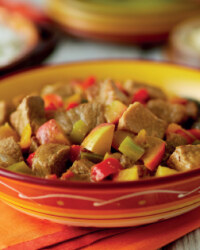 Recipe Information
Ingredients
1 x 360g pack Diced Pork
1 x Jar Antipasti Grilled Peppers in Oil
6 x Tomatoes
3 x Peaches
500ml Everyday Essentials Orange Juice
1 x Quixo Chicken Stock Cube
½ tsp each Stonemill Garlic Granules, Ginger and Cinnamon
A little Solesta Olive Oil
Salt and Black Pepper
Find your ingredients online on Click & Collect or find your nearest store using our Store Finder.
Method
In a large frying pan sauté the diced pork in a little oil until browned.
Drain the peppers, chop into small pieces and add to the pork along with the Stonemill spices.
Pour over the orange juice and crumble in the stock cube, season with some salt and pepper.
Bring to the boil, cover and simmer with a lid on for 30 minutes.
Chop the tomatoes into small chunks.
Cut the peaches in half, remove the stone and cut into small chunks, add to the pork along with the tomatoes, cover and cook for another 15 minutes.
Great served alongside rice and sprinkled with some flaked almonds.