Cooking for a special occasion? This roast lamb will be perfect - and it tastes amazing with the sweet red peppers and butternut squash.
Baked Lamb with Butternut Squash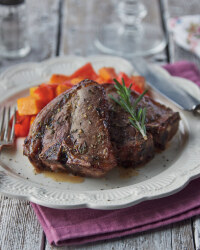 Recipe Information
Ingredients
2 x 400g packs Lamb Chops
2 Red Pointed Peppers
½ Butternut Squash
100ml Sunflower Oil
40g Honey
½ tsp Garlic Granules
1 tsp Rosemary
Salt
Black Pepper
Find your ingredients online on Click & Collect or find your nearest store using our Store Finder.
Method
Pre-heat the oven to 190°C/375°F/Gas Mark 5.
Peel the squash, discard the seeds and cut into chunks.
Cut the peppers in half lengthways and cut into chunks.
Put the peppers and butternut squash in a roasting dish and pour over the oil.
Put in the oven and roast for 40 minutes.
Mix the honey, garlic granules and rosemary together then season with black pepper.
Put the lamb chops on a baking tray, brush them with the honey mixture and roast in the oven for 25 minutes.
Drain off any oil from the vegetables and serve alongside the lamb chops.