Easy Blueberry Scone cake layered with whipped cream and blueberry jam.
Blueberry Scone Cake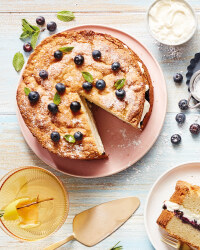 Recipe Information
Ingredients
440g Self Raising Flour
1 tsp Baking Powder
95g Caster Sugar
175g Unsalted Butter, cubed
300ml Whole Milk
1 tbsp Lemon Juice
1 x Egg, beaten
2 tbsp Demerara Sugar
½ tsp Salt
80g Blueberry Jam
75g Blueberries
200ml Double Cream
Method
Mix together the milk and lemon juice and leave to one side until needed (it should thicken).
Pre-heat the oven to 200°C/180°C Fan/Gas Mark 6.
Stir the baking powder, caster sugar and salt into the flour and then add the cubes of butter and use the tips of your fingers to rub the butter in until you have a crumb-like texture.
Add the egg and the milk to the flour mixture and combine until you have a wet, scone-type dough mix.
Place into the tin and sprinkle over the demerara sugar, then bake for 40 minutes until a cocktail stick, when inserted into the cake, comes out clean.
Leave to cool on a rack and slice into two layers when chilled.
Whip the cream into soft peaks and swirl the blueberry jam on top.
Place the mixture on both inside halves of the cake and place them together.
Top the scone cake with fresh blueberries.
Chill until ready to serve.