Healthy and delicious smoothie bowl made with berries, almond milk and chia seeds.
Blueberry Smoothie Bowl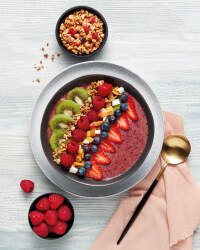 Recipe Information
Ingredients
Smoothie
1 x large Banana, sliced and frozen
90g Blueberries
90g Raspberries
75ml The Foodie Market Unsweetened Almond Milk
1 tsp The Foodie Market Chia Seeds
Toppings
1 x Kiwi, peeled and sliced
3 x Strawberries, sliced
125g Raspberries
125g Blueberries
2 x 25g packets of The Foodie Market Exotic Mix
2 tbsp Specially Selected Berries and Cherries Muesli
1 tbsp The Foodie Market Chia Seeds
Method
Place all of the ingredients for the smoothie into a blender and blitz until smooth.
Pour the smoothie into a bowl. Arrange the toppings in neat lines on top of the smoothie. Serve immediately.