This luxurious and fruity dessert is perfect for ice cream lovers.
Caramelly Banana Split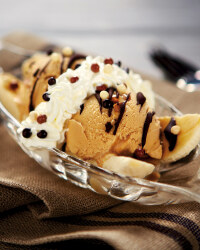 Recipe Information
Ingredients
6 Scoops Caramel Ice Cream
2 Bananas
Squirty Cream
Sprinkles
Find your ingredients online on Click & Collect or find your nearest store using our Store Finder.
Method
Slice the bananas down the middle and place in a bowl.
Scoop the ice cream through the centre.
Top with squirty cream and decorate with sprinkles.
Top Tip: Try heating the banana under the grill for 2 minutes for a delicious hot and cold combo!