Authentic quesadillas loaded with cheese and peppers, served with rainbow salad.
Cheesy Quesadilla with Rainbow Salad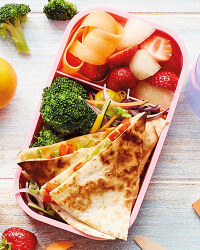 Recipe Information
Ingredients
Cheesy Quesadilla:
2 x Wraps
1 x Red Pepper, sliced
100g Cheddar, grated
2 x Spring Onions, sliced
½ tsp Dried Chilli Flakes
2 tsp Olive Oil
Rainbow Salad:
½ Carrot, thinly sliced
½ Yellow Pepper, thinly sliced
¼ Red Cabbage, thinly sliced
¼ Cucumber, thinly sliced
1 x Spring Onion, thinly sliced
2 tbsp Olive Oil
1 tbsp Lime Juice
1 tsp Honey
Pinch of Salt and Pepper
Method
Heat a large frying pan and add 1 teaspoon of the olive oil, followed by the red pepper.
Pan fry for a couple of minutes until the pepper is cooked, and leave to one side.
Heat the remaining teaspoon of oil in the pan, then add 1 of the wraps.
Top with the cheese, pepper, spring onions and chilli flakes, and then top with the second wrap.
Cook for a couple of minutes and then flip to cook the other side until the cheese has melted.
While the quesadilla cooks, make the salad by mixing together the olive oil, lime juice and honey until combined, and season with salt and pepper.
Mix all of the salad vegetables in a bowl then pour over the dressing and combine. Serve half of the quesadilla each, along with the salad.