A Middle Eastern favourite with flavours of paprika, cumin, cinnamon, ginger and chilli.
Chicken Shawarma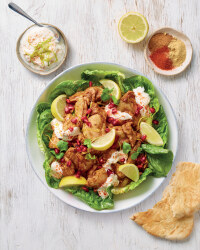 Recipe Information
Ingredients
500g pack Chicken Thigh Fillets
1 tbsp Olive Oil
2 cloves Garlic
3 tsp Ground Cumin
1 tsp Smoked Paprika
½ tsp Ground Cinnamon
¼ tsp Ground Ginger
¼ tsp Chilli Powder
Salt
2 Lemons
100g Greek Style Natural Yogurt
1 Baby Gem Lettuce
1 pack White Pitta Breads
Method
Chop the chicken thighs into quarters, then place into a large mixing bowl.
Crush the garlic and add to the mixing bowl.
Add the oil, the zest of 1 lemon, the paprika, cinnamon, ginger, chilli powder and 2 teaspoons of the cumin to the bowl.
Mix together well so the chicken is evenly coated.
Place into the fridge to marinate for 1 hour.
Pre-heat the oven to 200°C/400°F/Gas Mark 6.
Lay the chicken thighs onto a baking tray and season with salt.
Roast for 25 minutes.
Whilst the chicken is roasting, toast the pitta breads and spoon the yogurt into a small serving dish.
Add the juice of a lemon and the remaining teaspoon of cumin to the yogurt.
Stir to combine.
Break the leaves from the lettuce and wash.
Lay the leaves on a serving platter.
Top with the chicken and any cooking juices.
Serve with the yogurt, toasted pitta breads and lemon wedges.