This delicious Christmas cake will be the talk of your Christmas Day meal or party. Serve with a dollop of brandy butter for a real Christmassy experience.
Christmas Cake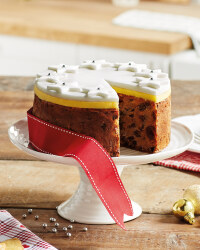 Recipe Information
Ingredients
4 Organic Eggs
250g Greenvale Unsalted Butter at room temperature
100g The Pantry Dark Brown Soft Sugar
100g The Pantry Light Brown Soft Sugar
300g The Pantry Plain Flour
1 tsp The Pantry Baking Powder
500g pack The Pantry Mixed Dried Fruits
2 x 70g packs Crunchy Woodland Nut Mix
200g carton The Pantry Glace Cherries
50ml Specially Selected Maple Syrup
1 tsp Stonemill Ground Cinnamon
1 tsp Stonemill Mixed Spice
150ml Napoleon Brandy or Caversham Cream Sherry
22cm springform cake tin
Non-stick baking parchment
Method
Line the base and the sides of the tin with a triple layer of non-stick parchment, making sure that the side lining stands about 3cm higher than the sides.
Pre-heat the oven to 150°c/300°f/Gas Mark 2.
Chop the nuts into smaller pieces.
Put the dried mixed fruit, nuts, glace cherries and the dried spices into a large mixing bowl and mix well.
Add the brandy or sherry and the maple syrup, then mix well.
Cream the butter with the sugars until light and fluffy.
Beat in the eggs one at a time with a heaped tablespoon of flour to prevent the mixture curdling.
Add the rest of the flour and the baking powder and mix well.
Spoon in the fruit mixture and gently fold together.
Spoon into the prepared tin and flatten the top.
Bake in the centre of the oven for 2 hours.
The top with be browned and lightly cracked.
Test with a wooden skewer – it should be slightly damp when removed.
Allow to cool in the tin.
Then remove any paper and wrap in cling film until needed.