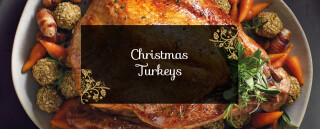 The star of every traditional Christmas dinner
Start your Christmas by exploring our full range of fresh and frozen turkeys. As The Grocer Supermeat and Fish Retailer of the Year, we have a feast of whole birds to choose from, along with a selection of stuffed parcels and crowns, and some top cooking tips you might find useful. Discover more below and remember that our frozen turkeys are in store now and our fresh turkeys are available in store from 19 December.

The Binder family have been rearing prized turkeys on their peaceful north Suffolk farm for over 30 years. Using traditional methods, they allow the turkeys to reach full maturity while they roam, roost and forage in open woodland on the farm. Learn more about this amazing supplier before choosing the perfect turkey for you.
Our Christmas turkey range
Whether you're cooking Christmas dinner for yourself or for 15, with so many varieties of fresh and frozen turkeys to pick from, you'll be able to find plenty of award-winning quality for you and your family to enjoy this Christmas, courtesy of the Fresh Produce Retailer of the Year 2018.
Turkey Taste Kitchen
Learn how to prepare your Christmas turkey like a professional with our handy Taste Kitchen videos. Below you'll see how to carve your turkey and how to dress it. Click through to see even more great tips and recipes.