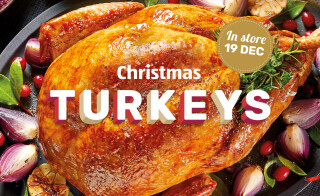 Ta-dah! Who's for turkey?
It's the meal you've waited all year for, so make it something truly special. Whatever your budget, our range of juicy British whole turkeys and delicious crowns are the perfect choice for an unforgettable Christmas dinner.
Spoil them with something Exquisite
We're truly thankful to have a range of British turkeys that offer true quality and value to share with family and friends. But if you're looking to spoil them this year, then we recommend our Exquisite Chesham Bronze Turkey.
Hand-finished

This luxury hand-finished Chesham Bronze Turkey is traditionally a slow-growing breed, dry aged for extra flavour and texture.
Award-winning

Winner of the ultimate accolade from the Great British Food Awards, judged by the most eminent chefs, food writers and restaurateurs.
Easy to cook

This Exquisite bird comes with a handy pop-up timer so you can cook your bird to perfection and giblets for the ultimate homemade gravy.
Exquisite Fresh British Turkeys
"We have been rearing birds for 30 years, taking pride in how we feed them well and grow them to maturity. We have a passion in what we're doing to make sure they are full of flavour and beautifully moist, using traditional methods to improve texture and flavour."
The Binder Family
Top off your table with value
We've got an incredible range of birds to choose from for your Christmas feast, no matter what your budget. All offering you the amazing quality and taste you need to make sure your Christmas turkey dinner is as perfect as possible.

Turkey Crown

All the delicious turkey breast, with the wings and legs removed. This 100% British crown is perfect for a small family feast. Small serves 3-6, medium serves 7-10 and large serves 11-15.


British Stuffed Turkey Joint

This boneless butter basted British turkey breast joint is filled with a gluten free pork, sage and onion stuffing and topped with a bacon lattice.
The best British quality and taste
Enjoy an amazing selection of the best British festive birds, including our juicy British Free-Range Turkey Parcel and flavoursome Stuffed Turkey Crowns.

Frozen British Stuffed Turkey Crown


Try this easy-to-carve, boneless turkey crown, stuffed then covered in rashers of streaky bacon for a delicious roast.


British Free Range Turkey Parcel


A tender turkey breast parcel with a gluten free pork and cranberry stuffing, topped with Specially Selected Smoked Streaky Bacon.
Treat them to something special
What better way to celebrate Christmas together than with a traditional British turkey from our amazing luxury range? Spoil them with deliciously stuffed Roly Poly turkey crowns and breast joints. All 100% British and free range. Roly Poly turkeys get their name from being juicy and plump. Free range, oat-fed, and RSPCA assured, they are reared in a natural habitat to give an extraordinarily moist flavour.

Roly Poly Turkey Breast Joint


A classic Christmas turkey joint. This smaller cut is 100% British and free range. Perfect for all the family plus leftovers.


British Roly Poly Stuffed Turkey Crown


Everyone will love this free range oat fed turkey crown with gluten free pork, cranberry and apple stuffing, topped with bacon.
When only the best will do
Share the taste of Christmas with an impeccably plump turkey from our amazing range. All our birds are reared on RSPCA Assured farms, notably rich to taste, with a juicy tenderness that will make sure everyone enjoys an unforgettable feast.

Roly Poly Turkey Crown, Saddle Cut


Let them feast on the finest 100% free range, oat-fed turkey crown.


British Roly Poly Turkey


A British free range Roly Poly turkey reared on RSPCA Assured farms. Includes Giblets for the perfect homemade gravy.
Turkey Taste Kitchen videos
Learn how to prepare your Christmas turkey like a professional with our handy Taste Kitchen videos. Below you'll see how to dress your turkey and how to carve it.
Turkey not your thing?
There are plenty of great alternatives to turkey at Christmas. Try our rack of lamb or something from our delicious vegan range. We'll also help you find the perfect bottle to pair it with.
Mouth-watering Christmas turkey recipes
There are lots of tasty ways to dress and impress with your festive turkey. Who says you have to stick to traditional flavours? Try our Turkey Crown with Chorizo Crust and Sherry Herb Gravy or this delicious Pomegranate and Orange Stuffed Turkey.