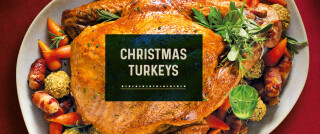 The Great British Christmas Turkey
Give your guests something to cheer about with this year's collection of Christmas turkeys. Here you'll see the highlights of our range, including our whole turkeys, roly poly turkeys and stuffed crowns.
For more amazing turkeys to suit every budget, head into your local Aldi. Fresh turkeys are on sale from 19 December.
Exquisite Turkey
Our luxury hand-finished Chesham Bronze turkeys are dry aged for tender meat, with a wonderful texture and fuller flavour. They also come with a pop-up timer for perfect results. Walk in with one of these on Christmas Day and it is sure to steal the show.
Roly Poly Turkey
Our British free range, oat fed Roly Poly turkeys are responsibly reared on RSPCA assured farms for exceptional quality. Giblets are included for you to make the perfect gravy.
Stuffed Crown
Our free range Bronze Turkey Crowns are responsibly sourced and stuffed with a delicious blend of pork, apple and cranberry gluten free stuffing. If that wasn't enough, they're also topped with tasty rashers of smoked bacon.
Turkey Taste Kitchen
Learn how to prepare your Christmas turkey like a professional with our handy Taste Kitchen videos. Below you'll see how to carve your turkey and how to dress it.
Explore the Christmas Cookbook
Try something a little different this festive season with the help of our brilliant Christmas cookbook. It's full of tasty inspiration and delicious meal ideas for the whole family.