All you need to know about turkey
Later this year we will be releasing our amazing turkey range for Christmas 2022. Be sure to come back and view our full range of turkeys, along with tips and tricks on prepping, cooking and carving!

We've made this part simple. With our mouthwatering collection of British turkeys you can choose an amazing centrepiece to match your Christmas plans.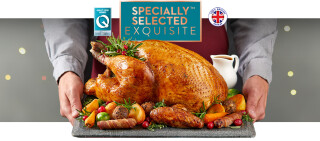 Hand-Finished Chesham Bronze Turkey
The ultimate star of the show is this slow-grown, dry hung and hand-finished Chesham Bronze turkey. Its size and deep, mature flavours make it perfect for impressing larger gatherings. Includes pop-up timer and giblets for making delicious gravy.
What the farmer says…
"We have been rearing birds for 30 years, taking pride in how we feed them well and grow them to maturity. We have a passion in what we're doing, using traditional methods to improve texture and make sure they are full of beautiful flavour."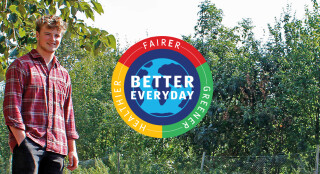 Turkey in all shapes and sizes
Not quite over the festivities? Take look at our amazing range of turkeys, and come back later to see our Exquisite 2022 range to spoil your family and friends with.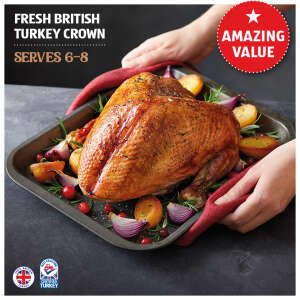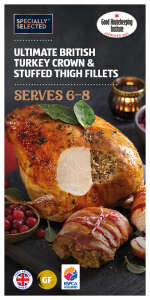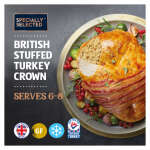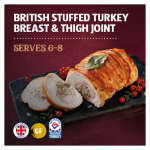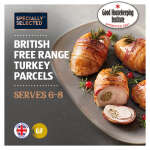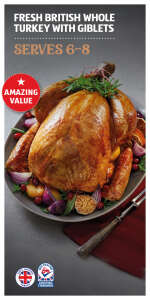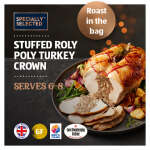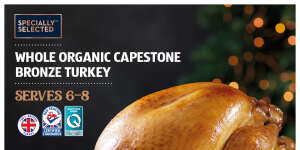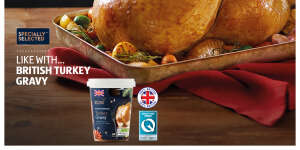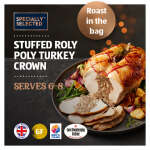 We've taken each step of the prep and broken it down so you can cook without the stress. Simply follow along and watch how our chefs do it. Get it right and the results will be amazing.
As a guide, cook your turkey at 180°C Fan/Gas Mark 4.
Under 4.5kg – cook for 45 minutes per kilogram, plus 20 minutes.
4.5kg – 6.5kg – cook for 40 minutes per kilogram.
More than 6.5kg – cook for 35 minutes per kilogram.
Cooking temperature

Weigh the turkey after stuffing and always pre-heat your oven.

Basting the bird

Pour, brush or spoon the juices over during cooking to keep it moist.

The skewer test

Test the bird is cooked using a thermometer. It should read 75°C.

Resting time

Loosely cover and allow it to rest. This keeps your meat moist.
Top tips to try out
Here's a few little suggestions to make everything run smoothly and taste delicious. Keep them in mind when it's time to cook.
Truss loosely

Make sure your bird cooks evenly by tying the legs loosely with string – this ensures that the breast meat doesn't overcook.

Rub with oil or butter

Don't forget to brown your turkey and crisp the skin to perfection by rubbing it all over with olive oil or melted butter.

Try 2 smaller birds

If you're short on space it's a good idea to roast 2 smaller turkeys. They'll fit better in the fridge and cook quicker.

Get a good pan

Pick a heavy duty, non-stick pan with low sides. If the sides are high, it stops your bird browning evenly below.
Watch how it's done!
If you're still wondering what it takes to make a delicious Christmas turkey, watch our chefs do it. They'll walk you through it all from start to finish.

If you want to add some tasty twists to your turkey roasts or you want to master how to make amazing stuffing, our Christmas cookbook has recipes, ideas and inspiration to help you through the season.

Make more delicious dishes with your leftover turkey. Explore our full collection for ideas across the festive season.

Pick a popular question and find an answer to help.
Impress your guests
Make your festivities memorable this year with a special bottle from our wine collection and a few thoughtful hosting ideas and inspiration.

More than turkey…
Now we've stuffed you with turkey tips it's time for more amazing offers, roasts and hampers.