Tasty Greek vegetable fajitas served with feta cheese, sour cream and lime.
Greek Fajitas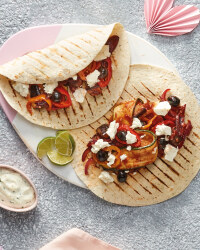 Recipe Information
Ingredients
4 Mediterranean Herb Wraps
½ Aubergine
1 Courgette, cut into strips
1 Red Onion, halved and sliced
150g pack Sweet Peppers, sliced
1 Red Chilli
130g Specially Selected Basil & Oregano Passata
65ml Olive Oil
50g Pitted Black Olives
100g Feta Cheese
100g Sour Cream & Chive Dip
1 Lime
Sea Salt and Black Pepper
Method
Finely chop the chilli (keep the seeds if you want a hotter dish).
In a large frying pan or wok heat the oil and sauté the aubergine for a few minutes, turning as you cook.
Add the onions, courgette, peppers and chilli.
Cook, stirring, for 15 minutes, then add the passata and olives.
Season with some salt and pepper, then turn the heat down and cook for a couple more minutes.
In the meantime, griddle or grill the wraps.
Place the vegetables on top of the tortillas, top with the dip and crumbled feta.
Squeeze some lime juice over the top and serve immediately.