A spicy grown up fishcake packed with flavour.
Masala Fishcakes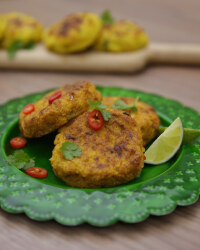 Recipe Information
Ingredients
2 large potatoes
200g white boneless and skinless fish fillets
1 tbsp fresh coriander
Half tsp chilli powder
2 cloves garlic
Quarter inch ginger
Half tsp turmeric powder
Juice of half a lime
1 tbsp oil
Salt to taste
Method
Peel and quarter the potatoes then add to a medium saucepan of water and boil for 15 minutes.
While the potatoes boil, cook the fish.
Heat the oil in a large saucepan, once hot add the garlic, ginger, turmeric, chilli and coriander.
After a few seconds add the potatoes.
Mash the potatoes until smooth.
Mix in the cooked fish and lime juice.
Add salt to taste.
Line a baking tray with foil.
Scoop the fishcake mixture and pat into equal sized rounds on the tray.
Place under the grill on high for 8 minutes each side.
For older children who like spice, serve with ketchup mixed with a little chilli powder.