Succulent pork roasted with tangy apples.
Orchard Baked Pork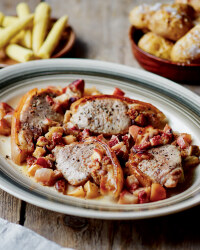 Recipe Information
Ingredients
600g packs Specially Selected Pork Loin Steaks
3 Royal Gala Apples
4 Fresh Figs
20ml Solesta Olive Oil
30g Greenvale Salted Butter melted
270g Baby Sweetcorn
600g Charlotte Potatoes
Sea Salt and Black Pepper
Butter, to serve
Find your ingredients online on Click & Collect or find your nearest store using our Store Finder.
Method
Pre-heat the oven to 200oC/400oF/GasMark 6
Put the potatoes on a baking tray, prick with a fork and bake for 45 minutes.
Put the pork steaks in a roasting tin, drizzle over the olive oil, season with some black pepper and bake for 10 minutes.
Meanwhile core the apples and chop into small chunks.
Cut the figs into the same size pieces.
Take the pork steaks out of the oven, sprinkle the apples and figs around the steaks, drizzle over the melted butter then return to the oven and cook for another 20 minutes.
Cook the baby corn in some salted boiling water for 5 minutes, then drain and serve alongside the pork and baked potatoes with some butter.
Aldi Wine Matches
Looking for the perfect wine match for this recipe? See below for our dedicated recommendations:
Lot Series 08 Colchagua Carménère 2012