Fun party biscuits with colourful icing and a choice of sweet flavours.
Party Rings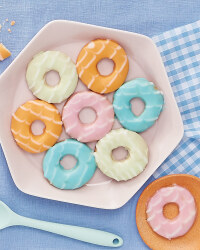 Recipe Information
Ingredients
For the biscuit
125g Softened Butter
50g Icing Sugar, sieved
1 tsp Vanilla Essence
75g Ground Almonds
150g Plain Flour
For the icing
300g Icing Sugar, sieved
2 tbs Water Blue, Pink and Orange Food Colouring (Yellow, Green, Orange & Pink in the image)
Method
Mix the butter, icing sugar and vanilla essence together and then stir in the ground almonds and flour to form a dough – add a little more flour if the dough is too soft to handle.
Wrap the dough in cling film or baking parchment and refrigerate for 30 minutes.
Pre-heat the oven to 160°C/Gas Mark 4.
Divide the dough into 2 and gently roll each portion out on a lightly floured work surface to 0.5cm thickness. Use a 6cm cutter to make rounds and a 2cm cutter to remove all the centres. Re-roll the dough trimmings and repeat.
Place each ring onto a greased and lined baking tray and bake for 10-15 minutes until pale golden and just firm to touch. Leave to cool and then remove from the tray.
Place the icing sugar into a bowl and gradually add the water, mixing well after each addition to form a smooth icing that is thick enough to coat the back of a spoon.
Divide the icing between 4 bowls.
Colour one portion of icing blue by dipping a cocktail stick into the blue food colouring and then swirling the cocktail stick into the icing, repeat if you want a stronger shade of blue.
Repeat the process to make pink and orange icing (use a clean cocktail stick for each one). Leave the 4th portion of icing white.
Split the quantity of biscuits into thirds, decorating 4 with the blue icing, 4 with the pink icing and 4 with the orange icing, then spoon and spread the icing over each ring with a teaspoon.
Pipe or drizzle the white icing over each party ring and leave the icing to set before serving.
Place the party rings onto a sheet of baking parchment before decorating to catch the icing drips.
Vary the flavour by replacing the vanilla essence with almond or salted caramel essence.