Golden ciabatta topped with roasted grapes, smooth cream cheese and balsamic vinegar.
Red Roasted Grape Crostini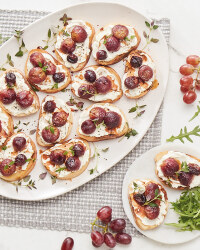 Recipe Information
Ingredients
300g Red Grapes
1 x Specially Selected Ciabatta Baguette
200g Soft Cheese
1 Garlic Clove
50ml Balsamic Vinegar
2 tbsp Olive Oil
2 sprigs Fresh Thyme
Pinch of Salt and Pepper
Method
Preheat the oven 190C/170C Fan/Gas 5.
Remove the grapes from the stem and combine with 1 tbsp. olive oil, thyme, salt and pepper.
Roast the grapes for 15-20 minutes until softened.
Slice the baguette into 1cm slices and brush with the remaining olive oil and place on a baking tray (you should get around 20).
Bake for 10-15 minutes until golden.
Gently rub the whole garlic clove over each piece of toasted ciabatta.
Pour any grape juice from the roasted grapes into a saucepan and add the balsamic vinegar.
Heat the vinegar and juice to a simmer and leave to reduce to syrup (around 10-15 minutes).
To serve spread the cream cheese onto each piece of toast and top with the roasted grapes then drizzle over the balsamic glaze and serve.