Turn all your leftover Easter eggs into a family fun tray bake
Rocky Road Chocolate Tray Bake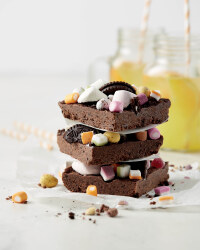 Recipe Information
Ingredients
500g Leftover Easter Eggs
1 x 200g pack Bourbon Cream Biscuits
1 x 154g pack Cookies n Cream Biscuits
1 x 200g bag Large Marshmallows
1 x 75g bag Dominion Dolly Mixture
1 x 80g bag Mini Chocolate Eggs
100ml Maple Syrup
1 x 25 x 20x 3cm Tin – lined with non-stick baking parchment
Method
Break up the chocolate eggs and chop up half the marshmallows.
Put the broken up chocolate, chopped marshmallows and the maple syrup in an ovenproof bowl.
Put the bowl over a pan of boiling water – make sure the bottom of bowl doesn't touch the water and melt the chococalte and marshmallow mix.
Put all the bourbon biscuits and half the cookies in a food processor and blitz to crumbs. Add the biscuit crumbs to the melted chocolate mixture and mix well.
Spoon the mixture into the prepared tin.
Cut the remaining cookies and marshmallows in half. Whist still warm - decorate the tray bake with the biscuits, marshmallows, dolly mixtures and chocolate eggs.
Allow to cool and serve.