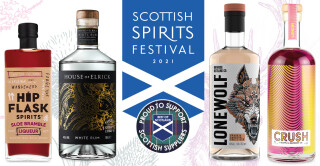 The spirit of Scotland at its very best
At Aldi Scotland, we're always keen to support local suppliers. And, in our 2021 Scottish Spirits Festival, you'll find an array of wonderful examples of the art of the distiller from right here in Scotland – from citrus gins to spiced rums, or flavoured vodkas to local liqueurs – not to mention the winners of our Next Top Product competition. So don't miss this unique event – explore our full range of Scottish spirits in store from 20 May.
Your guide to Scotland's finest spirits
Now you've got a taste of the Scottish Spirits Festival, here's a handy guide on which spirits are the ones for you. Learn about our entire line-up and what makes them so spectacular.
Scottish cocktail inspiration
Take your favourite spirits from the festival and make tasty cocktails like these. We've put together some amazing recipes for you to try at home.
Mix it up!
Our everyday range of mixers and lemonades are perfect for mixing with your favourite spirits and are equally as delicious enjoyed on their own – add ice for the perfect refresher on hot days.