Great as a side dish at your barbecue this summer.
Stuffed Pointed Peppers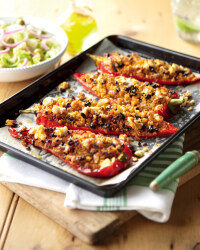 Recipe Information
Ingredients
2 Specially Selected Sweet Pointed Peppers
1 Red Onion
100g Worldwide Hot and Spicy Cous Cous
30ml Solesta Olive Oil
25g Solesta Pitted Black Olives
50g Lyttos Greek Feta Cheese
Stonemill Black Pepper
Find your ingredients online on Click & Collect or find your nearest store using our Store Finder.
Method
Preheat the oven to 200°C/400°F/Gas Mark 6.
Peel and finely chop the onion.
Heat a little oil in a medium saucepan, add the onions and sauté for 2/3 minutes.
Add the cous cous and 170ml boiling water.
Stir well then remove from heat and allow to rest for 5 minutes.
Meanwhile, chop the black olives, add them to the cous cous and season with black pepper.
Slice the peppers in half lengthways, removing any seeds.
Divide the mixture between the 4 halves.
Place them onto a metal baking tray and drizzle over the remaining oil.
Crumble the cheese over the peppers and bake in the oven for 20-25 minutes.