Meat-free alternative for the big day with Quorn, aubergine, houmous and pomegranate seeds
Vegan Pigs in Blankets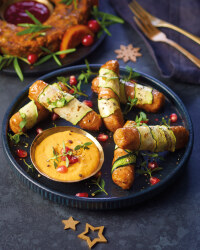 Recipe Information
Ingredients
6 Red Pepper & Butternut Squash Sausages
1 large Courgette
60g Roast Pepper Houmous
20ml Lemon Juice
20ml Olive Oil
50g Pomegranate Seeds
Black Pepper
Method
Pre-heat the oven to 200°C/Gas Mark 6.
With a peeler, peel long lengths from the courgette.
Wrap them around the sausages.
Bake on a baking tray in the oven for 20 minutes.
In the meantime, mix together the houmous, olive oil and lemon juice, season with some black pepper and serve alongside the pigs, scattering with the pomegranate seeds.