An incredibly simple, vegan pizza recipe that can easily be prepared at home in under 40 minutes. Top with whatever you fancy.
12" Vegan Chickpea Pizza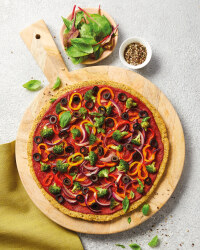 Recipe Information
Ingredients
400g tin Chickpeas
50g Gluten Free Porridge Oats
30ml Aquafaba (Chickpea Juice)
2 flat tsp Dried Oregano
1 heaped tsp Garlic Granules
2 tsp Chia Seeds
20ml Olive Oil
Sea Salt and Black Pepper
250ml Passata
100g Sweet Peppers
1 Red Onion
40g Broccoli Florets
12 Black Olives
Method
Pre-heat the oven to 200°C/Gas Mark 6. Drain the chickpeas, retaining 30ml aquafaba.
Soak the chia seeds in the aquafaba.
Place the chickpeas, oats, oregano, granules, olive oil and soaked chia seeds in a food processor.
Season with some salt and black pepper.
Process into a thick dough.
Line a baking tray with non-stick baking paper. Spread the dough into a 12" base.
Bake for 15 minutes. Remove from the oven and carefully flip.
Peel away the paper and cook for another 10 minutes.
In the meantime, reduce the passata in a pan for approx. 6 minutes to make a thicker paste.
Thinly slice and fry the red onion and peppers.
Spread the passata over the base.
Top with the sliced peppers and onion.
Shred the broccoli and sprinkle over.
Top with olives.
Bake for a further 10 minutes and serve immediately.