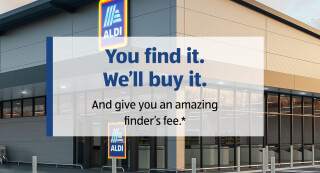 *1.5% (freehold) or 10% (leasehold) finder's fee
Business is booming at Aldi
We are continuing to add to our store portfolio and 2020 allowed us to open many more stores. Our ambitious property investment and property development programme plans to continue our growth, so we're always looking for great new sites and existing commercial properties.
So, are you a property finder?
Find Aldi an appropriate property and we'll offer you an amazing 1.5% (freehold) or 10% (leasehold) finder's fee*.
*Acting as our agent on previously unknown sites.
Download our guides
If you would like to find out more about Aldi, our property requirements, where we are looking for sites or how our stores benefit their local communities please download one of our guides.