These fruity and elegant dessert pots are a delightful idea for dinner dates.
Banana & Amaretto Pots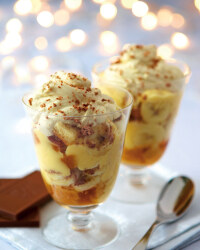 Recipe Information
Ingredients
2 Organic Bananas
500g Delicious Dessert Ready to Serve Custard,
40ml Bellucci Amaretto,
284ml Cowbelle Double Cream,
150g Holly Lane Madeira Cake,
125g Moser Roth Milk Chocolate,
1 tsp Alcafe Instant Coffee Granules
Find your ingredients online on Click & Collect or find your nearest store using our Store Finder.
Method
Cut the madeira cake into chunks. Peel and slice the bananas, mix with the madeira cake cubes. Pour over the Amaretto. Divide the mixture between 4 glass bowls, and then pour the custard over. Put the cream in a bowl, add the instant coffee and whisk till thick, spoon or pipe this over the custard. Open the chocolate, you will have 5 small bars. Grate one of the bars and sprinkle this over the cream, refrigerate for a few hours, serve each pudding with a bar of the chocolate.