This beautifully hearty vegetarian curry is a fantastic healthy choice for tea tonight.
Butternut Squash, Chickpea and Vegetable Curry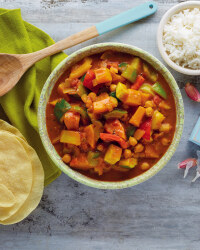 Recipe Information
Ingredients
1 Butternut Squash
1 x 400g tin Sweet Harvest Chickpeas
1 large mild Onion
1 Courgette
2 Peppers
3 cloves Garlic
1 x 400g Sweet Harvest Chopped Tomatoes
1 x 400g tin Asia Coconut Milk
1 heaped tsp Stonemill Turmeric
1 heaped tsp Stonemill Chilli Powder
1 heaped tsp Stonemill Ground Cumin
1 tsp Stonemill Ground Ginger
½ tsp Stonemill Cinnamon
500g Everyday Essentials Rice
1 pack Asia Poppadoms
Sea Salt and Black Pepper
30ml British Rapeseed Oil
Find your ingredients online on Click & Collect or find your nearest store using our Store Finder.
Method
Peel and chop the onion. Peel and remove any seeds from the butternut squash, then cut into chunks.
Cut the peppers in half, remove any seeds and white pith, then cut into chunks. Peel and finely chop the garlic. Cut the courgette in quarters lengthways, then chop.
In a large saucepan, add the oil and fry the onions for about 3 minutes.
Then add the chopped garlic, cumin, ginger, turmeric, chilli and cinnamon and fry on a low heat for a couple of minutes to release the flavours.
Add the chopped tomatoes and coconut milk, season with some salt and plenty of black pepper.
Add the butternut squash, drained chickpeas, peppers and courgette.
Cook for about 30 minutes until the vegetables are tender.
Meanwhile, cook the rice as per instructions on the pack and serve alongside bowls of curry and poppadoms.