A delicious salad made with smoked salmon and grapefruit.
Grapefruit and Salmon Seeded Salad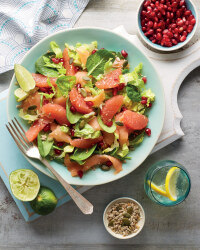 Recipe Information
Ingredients
3 Grapefruit – ruby or yellow
300g The Fishmonger Smoked Salmon
1 Little Gem Lettuce
80g Spinach Leaves
60g Pomegranate Seeds
25g Crunchy Trail Seed Mix
Juice of 2 Limes
Method
Peel and cut the grapefruit segments and remove any pith.
Shred the lettuce.
Juice the lemon.
Assemble the salad, squeeze over the juice and serve.