A deliciously dark hot chocolate with amaretto and vanilla chocolate shavings.
Hot Amaretto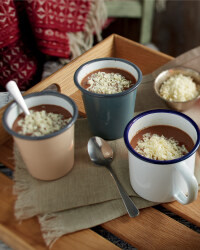 Recipe Information
Ingredients
700ml Semi Skimmed Milk
300ml Cowbelle Single Cream
125g Moser Roth 70% Dark Chocolate
100ml Amaretto
25g Moser Roth Madagascan Vanilla Chocolate
Method
Finely chop the dark chocolate and grate the white chocolate.
Put the milk and the cream into a pan and heat to almost boiling.
Divide the dark chocolate between 4 glasses, adding 25ml of Amaretto into each glass.
Divide the hot milk between the 4 glasses - stir to melt the chocolate - then sprinkle white chocolate over the top and serve.