Crunchy Roast Potatoes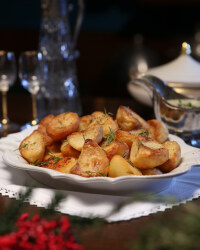 Recipe Information
Ingredients
1kg Maris Piper Potatoes
200ml Sunflower Oil
1 tsp Paprika
3 cloves of Garlic
2 sprigs of Fresh Rosemary
Sea Salt and Black Pepper
Method
Pre-heat the oven to 200°C/400°F/Gas Mark 6.
Peel the potatoes and cut into large chunks.
Parboil in salted water for 5 minutes with the whole cloves of garlic and paprika.
Drain well in a colander, then shake them around to roughen up the edges.
Pre-heat the oil in a metal roasting dish.
When the oil is hot, place each potato carefully in the oil, along with the sprigs of rosemary.
Cook for 45 minutes until golden – turning a couple of times as you cook.
Drain off the surplus oil, discard the rosemary and the garlic.
Season with salt and pepper and serve.