Slightly fragrant with herbs, figs, clementine and ground almonds
Fig and Almond Stuffing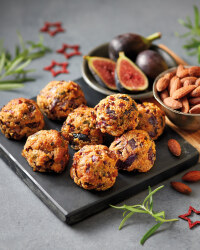 Recipe Information
Ingredients
200g fresh Figs
30g Ground Almonds
1 x large Red Onion
50g fresh Breadcrumbs
Juice x 1 Clementine
3g fresh Thyme
3g fresh Rosemary
2 x cloves Garlic
30ml Olive Oil
Method
Pre-heat the oven to 180°C/Gas Mark 4. Peel and finely chop the red onion. Peel and mince the garlic.
In a large frying pan, sauté the onion and garlic in the olive oil for 5 minutes on a low heat until softened. Finely chop the figs. Finely chop the herbs.
In a mixing bowl add the breadcrumbs, ground almonds, freshly chopped herbs, figs, clementine juice, onion and garlic and mix well.
Put into a small baking dish and cook in the oven for 30 minutes.