Grilled Asparagus with Poached Eggs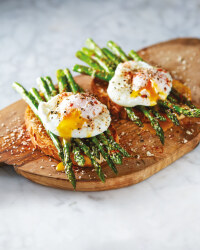 Recipe Information
Ingredients
2 x 170g Packs Asparagus
Juice of 1 Lemon
4 x Eggs
4 x Slices from a Tiger Loaf
40g Specially Selected Parmigiano Cheese – grated
Sea Salt
Black Pepper
Paprika
Method
Trim the cut ends of the asparagus.
Put them on a baking tray.
Drizzle over the lemon juice and season with some salt and pepper.
Turn the grill to high.
Grill the asparagus for 4 mins turning once while cooking.
Meanwhile poach the eggs in some salted boiling water and toast the bread.
Serve the asparagus on the toast, topped with a poached egg and sprinkled with the cheese, black pepper and some paprika.