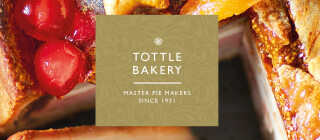 You can't hurry a Tottle Pork Pie
Melton Mowbray's master pie makers have been creating pork pies since 1931. It all began with a vision and a signature dark and crispy pastry from local Nottingham lad Ken Parr. "The secret to our success is that the pork pie is at the heart of everything we do," believes Bakery Manager, Tony Ombler. As well as supplying Aldi's Melton Mowbray Pork Pies since 2011, they are also creators of our amazing new Specially Selected Exquisite Jewelled Pork Pie, on sale this Christmas.
"It's all the flavours that emulate Christmas – layers of the finest outdoor bred British pork, chicken breast and pâté crowned with a medley of Iranian dates, Spanish cherries, apricots and figs." Brian Poulson – Development Chef
Only the finest ingredients go into Aldi's Specially Selected Exquisite Jewelled Pie.
How we make our Specially Selected Exquisite Jewelled Pork Pie
Every one of our hand-made Exquisite Jewelled Pies is crafted by Tottle Bakery experts using slow-cooked British meat and 80 years of heritage. Sounds delicious!