Simply delicious Russian-style pancakes. A labour of love, but well worth the time.
Spiced Vegan Blini with Cucumber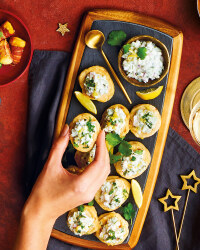 Recipe Information
Ingredients
205g Plain Flour
1 heaped tsp Yeast
200ml Soya Diary Alternative
3 tbsp Aquafaba (liquid from a tin of chickpeas)
Pinch Salt
1 tbsp Coconut Oil, for frying
For the topping:
1 Cucumber, finely chopped
6 tbsp Coconut Cream (from a can of full fat coconut milk)
2 tbsp Red Onion, finely chopped
½ pack of Pre Cut Parsley
Pinch Salt
1 tbsp Lemon Zest
Method
Gently heat the soya milk until warm (not boiling).
Place the flour, salt and yeast in a bowl.
Slowly add the soya dairy alternative, stirring continuously.
Whisk in the aquafaba, cover and leave for 1 hour.
Heat the coconut oil in a pan.
Add the batter a tablespoon at a time, flipping after 30-60 seconds, until you have 24 blinis.
Combine the coconut cream, cucumber, onion and salt in a bowl.
Divide the mixture between the blinis and top with parsley and lemon zest.
Keep the blinis refrigerated until serving.