Luscious turkey stuffed with crisp apple and creamy mature cheddar, served on a bed of fluffy rice.
Apple & Cheese Stuffed Turkey Steaks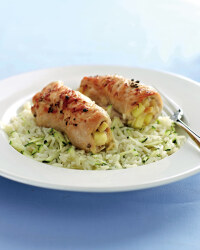 Recipe Information
Ingredients
1 x 375g pack Turkey Steaks
1 x Eating Apple
80g Lighter Mature Grated Cheddar Cheese
1 x flat tsp Stonemill Oregano
300g Bilash Long Grain Rice
1 x large Courgette
1 x Chicken Quixo Stock Cube
300ml Water
Salt and Black Pepper
Find your ingredients online on Click & Collect or find your nearest store using our Store Finder.
Method
Pre-heat the oven to 200°C/400°F/Gas Mark 6.
Core the apple and chop finely, mix with the grated cheese and oregano then mash with a fork so that the cheese and apple stick together.
Flatten the turkey steaks between some tin foil; use a rolling pin to flatten them.
You might have to trim the steaks a little, or use two smaller pieces to make up one (you need 4 portions of approx. 70g each).
Divide the stuffing mixture into 4 and roll the turkey steaks around it to make a sausage shape.
Put into a roasting tray.
Dissolve the stock cube in the boiling water and pour over the parcels, season with some black pepper.
Bake in the oven for 25 minutes.
Meanwhile, cook the rice as per instructions on the pack and grate the courgette.
When the rice is cooked, stir through the grated courgette.
Serve the turkey parcels on a bed of rice with some of the stock poured over.