A deliciously creamy asparagus soup for a simple lunch or impressive family meal starter
Asparagus Soup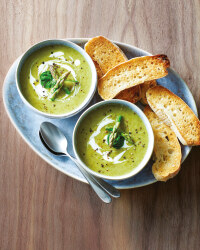 Recipe Information
Ingredients
2 x 170g Packs Asparagus tips
200g Baby New Potatoes
1 x Large Onion
100g Spinach Leaves
2 x Quixo Vegetable Stock Cubes
700ml Boiling Water
15ml The Pantry Lemon Juice
30g Salted Butter
½ tsp Stonemills White Pepper
Sea Salt
100ml Reduced Fat Crème Fraîche
Method
Wash the potatoes – no need to peel – chop them finely.
Peel the onion, halve and finely chop.
Chop the asparagus into chunks.
Melt the butter in a medium size saucepan – add the chopped onions and potatoes and cook on a low heat for 4 to 5 mins – stirring occasionally.
Add the asparagus, spinach leaves, boiling water and the lemon juice.
Crumble over the stock cubes and season with the pepper.
Add a little salt.
Bring to the boil, cover and simmer for 20 mins till tender.
Liquidise, add the crème fraîche, warm through and serve.