All you need is flour, eggs, milk, chipolatas and a sprig of rosemary. Only 10 minutes to prepare before popping them in the oven.
Baby Toad in the Hole Starters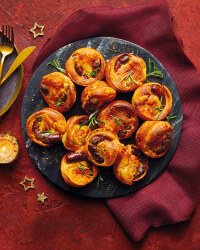 Recipe Information
Ingredients
12 Pork Chipolatas
120g Plain Flour
2 Eggs
350ml Milk
12 Sprigs of Rosemary
1 tbsp Vegetable Oil
Method
Pre-heat the oven to 240°C/Fan 220°C/Gas Mark 9.
Lightly grease a 12 cup muffin tin with the vegetable oil.
Whisk together the flour and eggs.
Gradually whisk in the milk to form a smooth batter. Set aside.
Curl a sausage into each cavity of the muffin tin.
Bake in the oven for 15 minutes.
Lower the oven temperature to 220°C/Fan 200°C/Gas Mark 7.
Place a sprig of rosemary in each cavity and divide the batter between the 12 sausages.
Bake in the oven for a further 15-20 minutes. Serve immediately.