Tasty bacon, hearty potatoes and creamy leek combine for this deliciously warming bake. Perfect for evening meals.
Bacon, Potato & Leek Bake with Carrots & Mangetout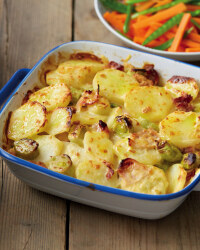 Recipe Information
Ingredients
400g Smoked Back Bacon
1kg White Potatoes
300g Leeks
300g Carrots
150g pack Mangetout
400g tin
Soupreme Classic Chicken Soup
75g Mature Grated Cheddar Cheese
Sea Salt and Black Pepper
15ml Solesta Sunflower Oil
1 x 22cm square deep ovenproof dish
Find your ingredients online on Click & Collect or find your nearest store using our Store Finder.
Method
Preheat the oven to 180°C/350°F/Gas Mark 4.
Chop the bacon into chunks and sauté in a frying pan with the oil for 5/6 minutes until just coloured.
Peel the potatoes and cut into slices.
Chop the leeks into slices, wash well and drain.
Put the potato and leek slices into a pan of cold slightly salted water, bring to the boil, cover and cook for 5 minutes then drain well.
Put the potato, leek slices and the bacon into the baking dish, pour over the soup and gently mix, season with some black pepper.
Sprinkle over the grated cheese and bake in the oven for 20/25 minutes until golden.
Meanwhile peel the carrots and cut into thick matchsticks.
Cook in some boiling salted water for 3 minutes.
Cut the mangetout in half lengthways, add to the carrots and cook for a further 3 minutes.
Drain and serve alongside the bake.