This succulent and delicious ham goes great with our peach and apricot sauce.
Baked Ham with Fruity Sauce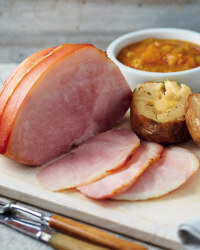 Recipe Information
Ingredients
750g Gammon Joint - choose either smoked or plain
3 Apricots
2 Peaches
1 Quixo Chicken Stock Cube
300ml boiling water
20g Light Soft Brown Sugar
½ tsp Stonemills Ginger
5ml Asia Soy Sauce
700g pack Bannister Frozen Jacket Potatoes
1 pack 2 Little Gem Lettuce
500g pack Large Vine Tomatoes
150g Runner Beans Butter, Sea Salt and Black Pepper (to serve with the jacket potatoes)
Find your ingredients online on Click & Collect or find your nearest store using our Store Finder.
Method
Pre-heat the oven to 190°C/350°F/Gas Mark 5.
Put the gammon in a roasting dish, cover loosely with foil and bake for 80 minutes.
Remove the tin foil for the final 20 minutes.
Put the jacket potatoes in half way through the cooking time for the gammon - they need 40 minutes from frozen.
For the salad trim and shred the lettuce.
Slice the runner beans thinly.
Chop the tomatoes, then toss them together in a salad bowl.
For the sauce: Stone the fruit and chop into medium-sized chunks.
Dissolve the stock cube in the boiling water.
Put the fruit, stock, ginger and brown sugar in a small saucepan.
Bring to the boil, then cover and simmer for 20 minutes.
When the fruit is soft, mash it with a fork.
Add the soy sauce and stir.
Carve the Gammon and serve with the sauce, alongside the jacket potatoes and the crisp salad.