An easy-to-make and delicious stir-fry recipe, suitable for lunch or dinner.
Beef and Pepper Stir Fry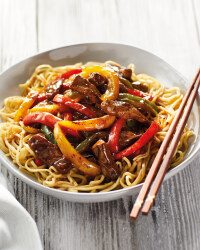 Recipe Information
Ingredients
1 x 360g Quick Fry Steaks
½ of each Red, Green and Yellow Peppers
1 tbsp Vegetable Oil
2 x 120g pouches Oyster and Spring Onion Sauce
1 x 250g pack Chinese Medium Noodles
Find your ingredients online on Click & Collect or find your nearest store using our Store Finder.
Method
Cut the beef and peppers into strips.
Heat the oil in a wok or frying pan and fry the beef until brown.
Add the peppers and cook for a further 2 minutes, stirring all the time.
Add the cooking sauces and simmer on a low heat for 5 minutes.
Meanwhile cook the noodles as per pack instructions.
Serve the beef and pepper sauce over the noodles.
Aldi Wine Matches
Looking for the perfect wine match for this recipe? See below for our dedicated recommendations:
Lot Series 08 Colchagua Carménère 2012
Lot Series 10 Clare Coonawarra Cabernet