Classic creamy Beef Stroganoff made with fillet steaks and served on tagliatelle.
Beef Stroganoff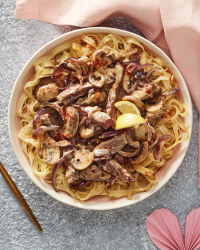 Recipe Information
Ingredients
1 x 340g twin pack Fillet Steaks
1 x Red Onion
115g White Mushrooms
1 x heaped tsp Dijon Mustard
40ml Brandy – optional
100ml Soured Cream
Juice x ½ Lemon
20g Butter
20ml Olive oil
1 x heaped tsp Paprika
1 x Beef Stock Pot
75ml boiling Water
135g Specially Selected Tagliatelle (4 coils)
Black Pepper
Method
Peel and thinly slice the onion.
Cut the fillet steaks into strips.
Wipe and slice the mushrooms.
Cook the tagliatelle in some boiling salted water for 10 minutes – as per instructions on the pack.
Melt the butter in a large frying pan or wok.
Add the oil and then sauté the steak and onions for 8 minutes – turning as you cook.
Add the sliced mushrooms and cook for a couple more minutes.
Add the stock pot and the boiling water – allow the stock pot to melt.
Then add the mustard, cream, lemon juice, paprika and brandy [if using].
Season with some black pepper – and cook gently on a low light – stir through to incorporate the flavours.
Serve on the drained pasta.