Fruity and tangy Blackberry and Blueberry Chocolate Tarts. Perfect with ice cream.
Blackberry and Blueberry Chocolate Tarts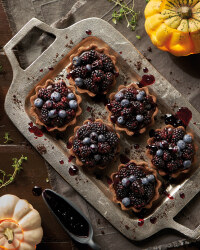 Recipe Information
Ingredients
6 Fluted Individual Tart Tins
For the pastry:
100g Cold Butter
225g Plain Flour
25g Cocoa Powder
80g Icing Sugar
½ tsp Baking Powder
1 Egg
For the filling:
150g Dark Chocolate, chopped
300ml Double Cream
For the topping:
2 punnets Blackberries
½ punnet Blueberries
3 tbsp Specially Selected Blackberry Jam
1-2 tbsp Water
Method
1. Place all the ingredients for the pastry into a food processor and blitz until nearly combined (add a few drops of water if needed but be careful not to make the pastry wet). Tip out onto a floured surface and finish combining by hand.
2. Wrap the pastry in cling film and leave to rest for an hour.
3. Pre-heat the oven to 180°C/Gas Mark 6.
4. Roll out the pastry to the thickness of a £1 coin.
5. Cut into 6 and then line the tins with the pastry, cutting off any excess.
6. Line the pastry cases with baking paper and fill with baking beans or rice and bake for 10 minutes, then remove the baking beans.
7. Return to the oven for another 10 minutes until cooked and crisp.
8. Heat the cream until nearly boiling and pour over the chopped chocolate, then stir until combined, thick and glossy.
9. Divide the chocolate filling between the tart cases and then top with the fruit.
10. Mix the jam and water to create a fruit sauce and drizzle over the tarts.