Delicious fresh berries and fresh lemon juice combine with the crisp taste of gin to make this cocktail the perfect drink for a summer afternoon. With its uplifting citrus and berry notes, Blackberry Smash is an excellent drink to pair with a summer picnic or a cocktail you can enjoy in the garden.
Blackberry Smash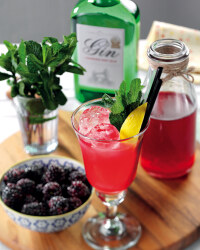 Recipe Information
Ingredients
50 ml Oliver Cromwell London Dry Gin
½ a cup of white sugar
½ a cup of hot water 10-12 blackberries
25ml fresh lemon juice
6 mint leaves
Sparkling water to top
Method
Fill a tall glass and a cocktail shaker with cubed ice.
To make blackberry syrup dissolve the white sugar in the hot water.
Once dissolved add in 10/12 blackberries and allow to cool down to room temperature before straining and chilling in the fridge.
Add 25ml of blackberry syrup and all ingredients (except the sparkling water) to the cocktail shaker.
Shake hard for ten seconds and then strain through a tea strainer into the ice-filled tall glass.
Slowly top with sparkling water.