Make dessert extra special this Sunday with this blueberry brûlée that's bursting with flavour.
Blueberry Crème Brûlée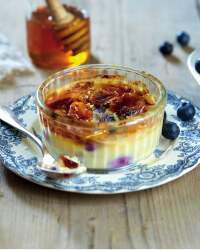 Recipe Information
Ingredients
3 Large Egg Yolks
300ml Double Cream
70g Caster Sugar
1/2 tsp Vanilla Essence
125g Large Blueberries
4 Ramekin Dishes
Find your ingredients online on Click & Collect or find your nearest store using our Store Finder.
Method
Pre-heat the oven to 150°C/300°F/Gas Mark 2.
Whisk the egg yolks with 30g caster sugar in a bowl until pale and thick.
Put the cream in a saucepan and slowly bring to the boil. Pour the boiling cream over the egg yolk mix, whisking as you pour.
Keep a few blueberries for decoration, divide the rest between the 4 ramekin dishes and then pour the custard over them.
Place the ramekin dishes in a roasting tin and pour enough boiling water into the roasting tin to reach halfway up the sides of the dishes.
Bake in the oven for about 30-40 minutes until just firm to the touch. Take the ramekin dishes out of the oven, allow to cool, and then refrigerate until cold.
Divide the remaining sugar between the 4 dishes and sprinkle on top. Either use a chef's blowtorch to burn the sugar or place quickly under a very hot grill. Garnish with the remaining blueberries and serve.