Blueberry Frozen Yoghurt Bars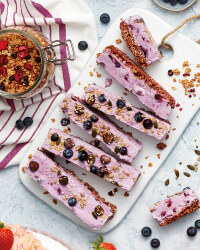 Recipe Information
Ingredients
275g Super Berry Granola
85g Smooth Peanut Butter
3 tbsp. Coconut Oil (melted)
250g Blueberries
2 tbsp. Honey
1 tsp. Vanilla Extract
750g Greek Yogurt
1 tbsp. Seed Mix
Baking tray/dish around 30 x 18cm and at least 5cm deep – make sure there is space in your freezer for this tray
Method
Line the baking tray with greaseproof paper.
Place the granola into a food processor and blitz for a couple of minutes until it has broken down into smaller crumbs.
Melt the coconut oil and stir through the granola.
Mix in the peanut butter and then press into the base of the tray.
Leave to chill for 15-20 minutes until hardened.
Heat 200g of the blueberries with the honey, vanilla extract and a tablespoon of water until the blueberries have reduced into a sauce.
Begin to stir the blueberry sauce through the yogurt and then pour on top of the granola leave some swirls of the sauce visible in the yogurt.
Top with the remaining blueberries and sprinkle over the seeds.
Freeze for 3-4 hours until solid and then dip a knife in hot water to slice into 12 bars. Serve immediately.